By Li Panpan
Ganesh Moorthy, CEO of global leading IC producer Microchip Technology said the Shanghai pandemic lockdown caused great difficulties for its supply chain, and it will need to take new action regarding its Chinese suppliers if there continue to be unpredictable shutdowns, according to the U.S-based media FORTUNE Magazine's website.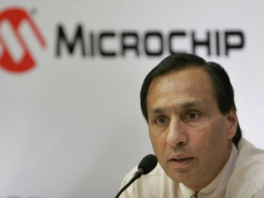 With a complex and global supply chain, Microchip has many of its key suppliers in the Shanghai area. "It's all happening at a time when the industry is fully stretched and has no buffer to deal with these things," said Ganesh Moorthy.
He said the closed-loop system that requires factory employees to sleep on-site has not been entirely successful, although some of its partner factories have reopened.
"I'm sure in the short term, [the lockdown will] have an inflationary effect to the extent that the price adjustments get made because of supply and demand," added Moorthy.
He hopes that the Shanghai lockdown will ease in the next one or two weeks. He adds that Microchip is in "wait and see" mode.
"If there continue to be repetitive, consistent, and unpredictable shutdowns, we will need to take more permanent action in some way [regarding our Chinese supply chains]," he says. "We're going to play it out and see where it goes."
On recent earnings calls, CEOs like Moorthy expressed alarm at the chaos caused by the lockdown. Executives mentioned China and Shanghai at a higher rate than when COVID first emerged in the spring of 2020. In April, 291 earnings calls contained language related to the China lockdown, up from 33 the previous month, according to research firm Sentieo. In the first ten days of May, another 271 calls contained "China lockdown" wording.