By Kate Yuan
(JW Insights) Mar 21 -- Huawei ranked first in the global telecom equipment market in 2022, followed by Nokia and Ericsson, according to the latest report by market research agency Dell' Oro Group.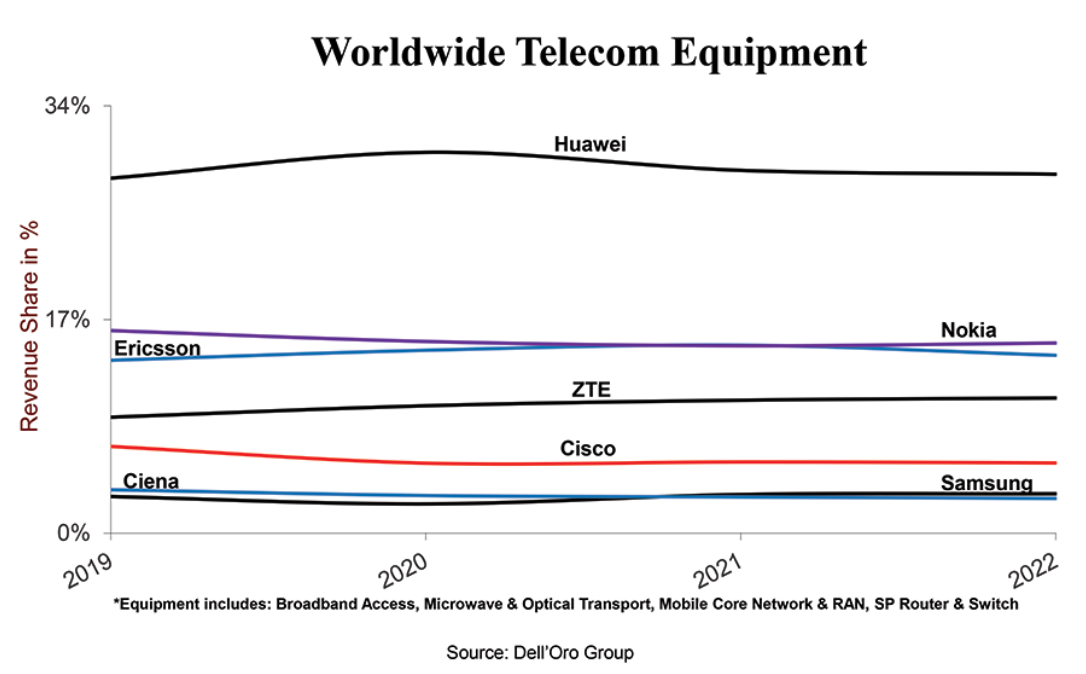 The report noted, "Despite on-going efforts by the US government to limit Huawei's TAM and access to the latest silicon, our assessment is that Huawei still leads the global telecom equipment market, in part because Huawei remains the #1 supplier in five out of the six telecom segments we track."
But Huawei has lost some ground outside of China. Still, Nokia, Ericsson, and Huawei were the top 3 suppliers outside of China in 2022, accounting for around 20%, 18%, and 18% of the market, respectively.
The report said the aggregate telecom equipment market moderated somewhat from the 8% revenue increase in 2021 to 3% year-over-year in 2022. Vendor dynamics were relatively stable between 2021 and 2022, with the top seven suppliers driving around 80% of the overall market.
Regional developments were mixed, underpinned by strong growth in North America and CALA(Caribbean and Latin America), which was enough to offset more challenging conditions in EMEA and the Asia Pacific. With China growing around 4%, it estimated global telecom equipment revenues excluding China increase around 3% in 2022.
Dell' Oro forecast the overall telecom equipment market will increase 1% in 2023 and record a sixth consecutive year of growth. It will continue to monitor the 5G rollouts in India, capex cuts in the US, and 5G slowdown in China (preliminary data by MIIT suggest new 5G BTS volumes will drop by a third in 2023 relative to 2022), wireless and broadband investments in Europe, forex fluctuations, and inventory optimization.